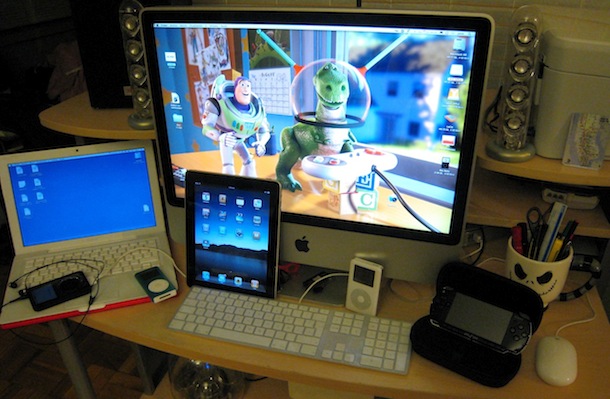 The incredible Apple Corporation has made purchasing a computer a little more difficult with the release of their ultra sleek Ipad. Ipad are the handiest of computers weighing in at only 1.5 pounds (1.6 for the Wifi and 3G enabled model) but lacks features standard to popular Macbook. When pitted head to head the winner is not clear but we will let you decide who should be the victor.
Ipads are small, lightweight and easy to throw in a purse or a backpack, while Macbook's can be seen as cumbersome at 13 across and 4.7 pounds. However size difference is only part of the equation, each computer has a variety of unique capabilities and features. Macbook's are known for their lightening fast computing power driven by 2.4GHz Intel Core 2 Duo processor with 3MB on-chip shared L2 cache. The mouth full trumps the Ipad's compact 1GHz Apple A4 custom processor which shows signs of fatigue when a few programs are open at one time.
For consumers the idea of having a "real" computer can influence their decision to purchase a Macbook. Ipads lack built in USB, Ethernet, and Apple's signature Mini Displayport necessary for connecting to VGA, HDMI, DVI, and Apple's massive 30 inch monitor. After several complaints Apple has released an additional adaptor for USB and Photo uploading to the Ipad but connecting beyond looks improbably in the immediate future.
Since Ipads run completely on Applications purchased from the Apple Apps store speciality programs are hard to come by, however the Apps store has an extensive inventory of Apps only made for the Ipad for banking, online chatting, and organizing media. In contrast Macbooks can use Microsoft Office or Apple IWorks for standard computer programs including word processing and spreadsheet construction.
For many people bigger is better hence the popularity of the Macbook over the Ipad, the 13.3 inch screen is considerably larger than the 9.7 inch touch screen used on the Ipad. Also the maximum storage space on a Ipad is 64GB or only a fraction of the Macbooks 250GB hard drive.
When it comes to usability Macbooks are the way the to go for consumers. Macbooks provide a solid platform with a standard keyboard, inputs and outputs which can not be found on the tiny Ipad. If you are more abotu connivence and portability, the Ipad at almost a quarter of the weight is a great purchase and can accomplish the majority of computing tasks.